Author: fraise

Last week I mentioned that many bike touring places here take you along the Basse Corniche, a relatively easy and picturesque ride. Still getting my legs into shape, I decided to take it rather than the more difficult Moyenne Corniche today, for a quick ride to Villefranche-sur-mer. I've done the Basse Corniche by car and bus (line 100 takes you from Nice to Monaco along that very route), and always thought the Moyenne and Grande Corniches were much nicer for views. I wasn't counting on a bicycle making a large difference. I was very happily mistaken!
Above is a panorama I put together from three photos on my camera; that is the sort of thing you can see with a quick look over your shoulder by bike. No car frame or roof to block your view. When I turned the cap de Nice and came upon Villefranche, I nearly fell off my bike from astonishment at the unexpectedly incredible view. As it was, some tourists on foot heard a surprised cyclist exclaim, "wow mais c'est trop beau !!!" There was no way I could have captured it with my camera. To your left you have the Mont Boron rising up nearly 200 metres from sea level; in front of you the nearby hills and Préalpes form the backdrop to charming Villefranche; to your right, the blue Baie de Villefranche dotted with sailboats and the occasional cruise ship, more rocky hills plunging into the Mediterranean, and Cap Ferrat jutting into the sea. All of it visible without effort. "Breathtaking" is correct.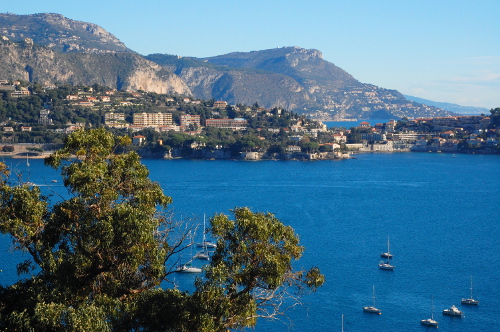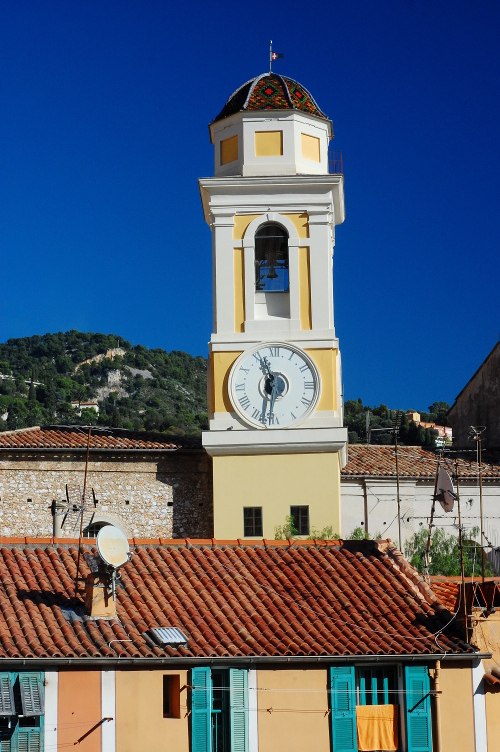 Here is a closer view of the Port de Nice, which had a French flag draped over our WWI-WWII memorial for the WWI Armistice commemorations today.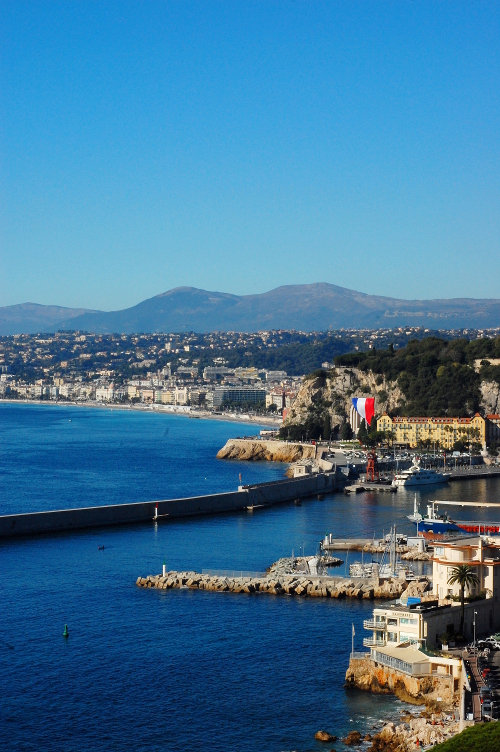 Route from Nice city center
Overview: 20km/12mi round trip, 90 metres/295 feet elevation gain over the 2 kilometres/just over 1 mile between the port of Nice and the Cap de Nice, as well as between Villefranche and the Cap on the way back. That's a 4.5% grade.
Map: my favorite is the IGN Nice-Menton "Carte de randonnée" n°3742, at 1:25,000, or 1cm=250m.
I went the easy way from Nice, namely, the Promenade des Anglais, and rode up the port. Do be aware that the bike lane along the port ends before reaching its north, so you'll need to safely rejoin the road. Turn right to follow the north end of the port, and go straight through the lights to Boulevard Carnot, which is a steady, moderately easy climb. It does climb for two kilometres, so you'll need to be in decent shape for it. I wouldn't do it on a Vélo Bleu, they only have three gears and are quite heavy.
The bike lanes are a bit odd from the Cap de Nice onwards, but drivers are careful as it's a heavily-cycled route. Remember to look over your shoulder before merging or turning, and you should be fine. While riding to Villefranche, also keep your eye out for cyclists riding the wrong direction – I crossed several. Understandable, since the climb isn't easy, and they were clearly not from the area, but still awkward.
Once in Villefranche, you can follow signs that indicate Vieille Ville, which will take you to the old town. Keep in mind you'll have to climb the narrow, winding roads back up to get out of the village. Roads back to Nice are well-indicated, and the Basse Corniche is the most easily accessible.
On your way back from Villefranche to Nice, you can ride on the road, near the rock face of Mont Boron. Cars are well-behaved here, and as paradoxical as it may feel, it is in fact safer than riding the wrong way up the shared cycle-footpath. Predictable behavior is always safer than something unpredictable, such as coming across runners or other cyclists while riding the wrong direction. On that note, wherever you ride, always signal your movements, even if it's only to move to the left a few feet to avoid car doors. I straighten my arm and point down and slightly left for that. In France, scooters and motorcycles have the right to pass vehicles on the left, and they usually drive fast, so you don't always hear them or see them. If you do a quick check behind you, then signal, and keep signalling until you've finished moving, you'll be much appreciated by all. I've now ridden 250km on my road bike, a good half of it on narrow, winding roads, and have never yet been honked at or buzzed dangerously. (A few "?!?!" incidents, yes, but all of them predictable from a defensive cycling viewpoint. There has been one scary incident, but it was so off-the-wall that it could happen anywhere. In short, use your eyes and hand signals, ride predictably and defensively, and you should be fine.)
For a bit of a change on the ride back into Nice, you can go straight on Boulevard Carnot, and continue going straight on the wide street that takes you to Place Garibaldi. In other words, don't turn left to follow the west side of the port; just go straight through that intersection. Place Garibaldi has older cobblestones, you'll cross the tram line as well, then ride under the MAMAC, our modern art museum. Position yourself in the left lane: after the MAMAC, turn left onto the protected bike lanes that follow our new Promenade du Paillon, and watch the lights! They're designed for cyclists, so if you have a red, stop: it will save you from left hooks. Enjoy – it's a beautiful ride, our city has come a long way for cycling these past few years.