Author: fraise
The town of Cagnes-sur-mer is named after the small river that flows through it, La Cagne, Provençal for chienne, the feminine form of "dog". Considering how popular dogs are on the Riviera in our modern times, it is fun to watch them trot alongside their human companions and think, "dogs on the sea", the literal translation of cagnes sur mer.
We've had a rainy Christmas, but the sun finally came out today. I hopped on my bike and rode to Cagnes along what used to be my commuting route to the client I was working with. If you stay along the sea, it's a very easy ride, and quite picturesque. If you don't mind climbing 15-20% grades, you can also ride up the castle hill in city center, or another hill (described below) to get this view I had on my commute: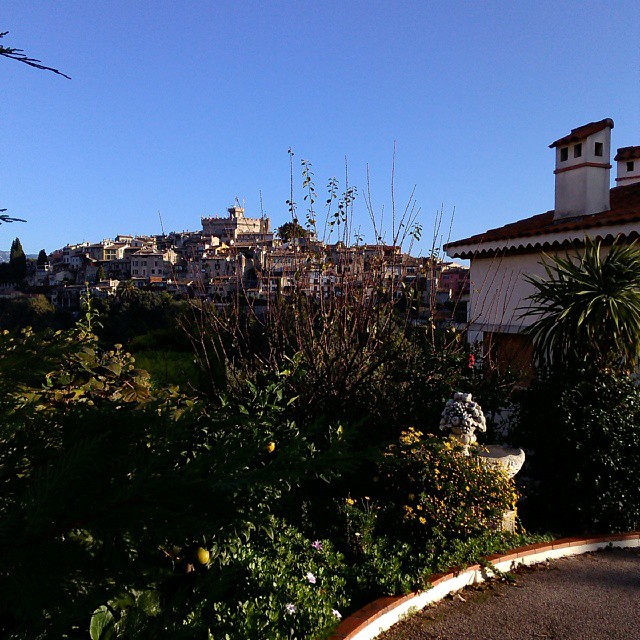 Route from Nice city center
Overview: about 30km round trip; 32 if you go up either hill. Very little elevation change unless you decide to climb, in which case you'll have 75-100 metres elevation change over about 500 metres distance. That's 15-20%, and they are narrow, curvy roads also used by cars.
Map: IGN Cannes-Grasse "Carte de randonnée" n°3643, at 1:25,000, or 1cm=250m.
Take the Promenade des Anglais out of Nice, and stay on it. If you take the bike lanes, do be aware that there are several stop signs along the way, and once you reach Cagnes, there is a strictly-enforced cycling speed limit of 10kmh. That's just over 6mph. Great for easygoing sightseeing, but I coast at that speed. If you're like me and average 20-30kmh, it's much easier and more pleasant to stay on the road.
Once you reach Cagnes, you can either stay on the Promenade, or go into the city. The nicest way to reach city center is to go along the canal of La Cagne, shown in the first photo. There's a painted bike lane, and trees separate it from a larger walking promenade along the edge of the canal. You often see geese and ducks, and always children playing, people walking dogs, and so forth. The only tricky bit is the passage beneath the railway line and autoroute, which is quite dark – slow down in case of oncoming bike traffic. I've also crossed motorized scooters there. Normally they're not allowed, but some cut through at that crossing. You shouldn't have to worry about them elsewhere along the bike lane.
Then it gets a bit tricky. There's a large parking lot which you can continue to follow up north, if you want to go to the castle hill. It's not always easy to follow the bike lane, so keep your eyes peeled for its green paint. You'll reach a large intersection with a few bus stops: follow signs for la colline du château / vieille ville (either or both terms may be used). Watch out for pedestrians.
To get the same view I had, take a sharp left after the underpass. Go straight until you reach an intersection with a small, forested park across the streets. The intersection is full of strange angles; you'll be going west-northwest up Rue Pasqualini. The end of Pasqualini gives onto another strange intersection: go straight uphill. After crossing the intersection, you'll take the second right at the tiny roundabout, up Chemin de l'Hubac. This is where your climb starts.
Chemin de l'Hubac isn't too rough when you know it. The first climb has a couple corners and is rather short, after which you'll have a breather. But then there's a very steep section, followed by another breather, then it climbs a third time. The second climb is the most difficult. Stay on Hubac, don't turn onto other streets. Once you've reached the top, you'll be greeted with a panoramic view of Cagnes' castle hill and the Mediterranean. There's not much beyond that, but it is worth it for the sightseeing.
On the way back, the Promenade road (not bike lanes) is more stressful. I'm not sure why – perhaps because drivers more easily see the protected bike lanes going this direction – but cars and buses get very honk-happy and crotchety when passing road cyclists on this segment. All my worst experiences with drivers have been here. You do have the right to use the road, of course. I've never seen all the car lanes full, even at rush hour there's usually an empty lane. It is better if you're a fast rider. That said, there have been days that I've swapped to the bike lanes just to avoid possessive drivers.
Enjoy the fresh sea air and sights!