Author: fraise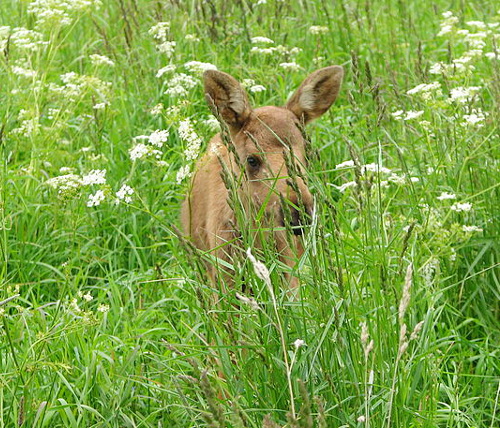 In French the New Year is called Le Nouvel an. Un élan is both a moose (also called elk in Europe, although they're quite different in Pacific Northwest language) and used as a word in English that means enthusiasm. It's often used in French to denote a "zest" for something, for instance "donner un nouvel élan à la vie" means "to give a new zest for life". There's also a joke often used at meals when one asks for the salt: "avec ou sans élan ?" The best response is to laugh, because if you say "avec" you'll get the salt thrown at you – avec élan means "with vigor". If you say "sans" you may never get the salt. Long story short, here's to hoping that 2014 will be a nouvel an avec élan.
Without further ado, or moose, here is this year's installment of the meme I've now done for four years: at the end of 2009, the end of 2010, the end of 2011, and the very start of 2013 for 2012.
1. What did you do in 2013 that you'd never done before?
– Founded my little publishing house and published a book, which has since done well
– Bought my first road bike and cycled Riviera city roads for the first time (had kept to cycling lanes when using the Vélo Bleu rentals)
2. Did you keep your New Year's resolutions, and will you make more for next year?
Normally I don't make resolutions, but last year I did decide to: "Act from a place of inner peace." Happy to say it worked out very well. For 2014, continue doing that… and riding my bike!
3. Did anyone close to you give birth?
Loads of babies and pregnancies in 2013!
4. Did anyone close to you die?
A very sweet tuba and bass trombone player I knew from our high school jazz band. He was only 40, and left behind his wife and five children. He died of leukemia just a few days before Christmas. We hadn't been in close touch, but I've always remembered him as the archetypal big and kind-hearted tuba guy, and he'll remain that.
5. What countries did you visit?
My trip to Australia with a stopover in Qatar was just before 2013… this year I actually didn't visit any other countries!
6. What would you like to have in 2014 that you lacked in 2013?
I do wish I could have a pay raise so that I can finally afford to get my bathroom plumbing fixed and, ideally, travel outside of Europe.
7. What dates from 2013 will remain etched upon your memory, and why?
– Autumn and winter on my bike through the Riviera! Beautiful.
8. What was your biggest achievement of the year?
Progress on the job, which, reaching ten years in 2014, I could probably start calling "career".
9. What was your biggest failure?
Again!! I didn't manage to get my bathroom water damage repaired. I got the quote done, and a month later my kitchen flooded. All of my funds went to repairing that. Sigh. Someday I'll have a real shower.
10. Did you suffer illness or injury?
Last year I said "I hope 2013 will be healthier!" and it was indeed.
11. What was the best thing you bought?
You've probably guessed, right. Yes, my road bike.
12. Whose behavior merited celebration?
Friends, as well as the kind people I've worked with.
13. Whose behavior made you appalled and depressed?
Xenophobia and racism. It was pretty bad this year. There's always some here and there, but for whatever reason, this year seemed quite pronounced.
14. Where did most of your money go?
Mortgage, plumbing, bike, food.
15. What did you get really, really, really excited about?
Every single time I prepare for a bike ride, heh.
16. What song will always remind you of 2013?
This is kind of an in-joke, but "The Witch" by The Primitives.
17. Compared to this time last year, are you:
a) happier or sadder? About the same.
b) thinner or thicker? Same.
c) richer or poorer? Richer, again, and though that's not saying much in terms of numbers, it is something for which I'm thankful as the economy continues to cough and sputter.
18. What do you wish you'd done more of?
Sewing. I put it off for several months while working on other projects, but wish I hadn't.
19. What do you wish you'd done less of?
I'm thinking about this and can't come up with anything, just as last year.
20. How did you spend Christmas?
Eating delicious food and enjoying board games with friends! "The Witch" may or may not have to do with my implausible winning streak in one.
21. Did you fall in love in 2013?
Stopped looking for it last year, and continued enjoying the friendships and love already surrounding me.
22. What was your favorite TV program?
"Xena: Warrior Princess" which I finally finished watching. I had seen two seasons in the States before leaving fifteen years ago. Seeing all of them was great.
23. What was the best book you read?
"Witchcrafting" no wait, that's a mistake!! ;-)
24. What was your greatest musical discovery?
My collection as listened to through my new stereo receiver. It has been lovely to rediscover rich sound.
25. What did you want and get?
That new stereo receiver, my bike (of course), happy cats continued being happy and healthy, and my "new" vintage sewing machine, which sews beautifully.
26. What did you want and not get?
My stinking bathroom renovation.
27. What was your favorite film of this year?
"Pacific Rim", though I also discovered one from 2010 that I can't get enough of: "Trolljegeren".
28. What did you do on your birthday?
Relaxed.
29. What one thing would have made your year immeasurably more satisfying?
2013 was wonderfully satisfying as it was.
30. How would you describe your personal fashion concept in 2013?
Libre
31. What kept you sane?
As last year, friends and creativity, Kanoko and Susu (my cats).
32. What political issue stirred you the most?
Marriage equality! So happy to see it reaching more and more places, as well as France this year, of course.
33. Who did you miss?
Faraway friends
34. Who was the best new person you met?
Several, at the client in Cagnes. I'm going to miss them.
35. Tell us a valuable life lesson you learned in 2013:
Sometimes the best response is none at all.
36. Quote a song lyric that sums up your year:
"She beckoned to me but I was scared to go; and all around was a weird and wonderful glow…"