Author: fraise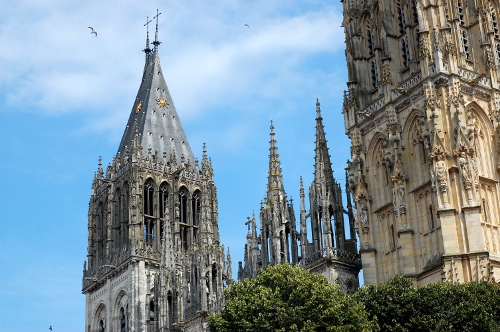 France still holds mysteries, even after nearly two decades living here. Last week I picked Rouen for a day trip, as the SNCF was offering a Saturday special to the Norman city from Paris. While I've been to Brittany and Paris, I had never before visited Normandy between them. My twelve hours spent in Rouen were so rich, I'll be doing a series of posts on the city and its history.
This first entry is dedicated to an edifice that embodies Rouennais history from the twelfth century to our own: la Cathédrale de Rouen. The photo above shows the Tour Saint-Romain on the left, one of the first examples of Gothic architecture in history, and the first part of the cathedral to be built. On the right is the more modern Tour de Beurre, built in the 16th century, a late example of Gothic Flamboyant architecture.
Gothic architecture originated in France, and was in fact first named "French work", Opus Francigenum. The term we use today was pejorative then: Goths were destructive vandals, and the new-fangled French handiwork was seen as a modern travesty, with Greek- and Roman-inspired Classical architecture held as the ideal against which it was judged. Even Molière, who lived in the seventeenth century, well after Gothic architecture had been established, had words to say about it:
« Tout s'y voyant tiré d'un vaste fonds d'esprit,
Assaisonné du sel de nos grâces antiques,
Et non du fade goût des ornements gothiques,
Ces monstres odieux des siècles ignorants,
Que de la barbarie ont produit les torrents… »

Translation (which can never equal the original):
All had been drawn from a rich reservoir of great thought,
Seasoned with the spice of Ancient graces,
Certainly not the blandness of Gothic ornament,
Such odious monsters borne of ignorant times,
Barbarism alone could produced by such torrents…
As for we contemporary visitors, if we exclaim "oh my God!" or "goodness gracious!" when approaching the legions of gargoyles, sculpted saints, ornate spires, and stained glass windows, all set on massive stonework, we unknowingly keep alive one of the style's key purposes – which was to inspire awe for God and the Church.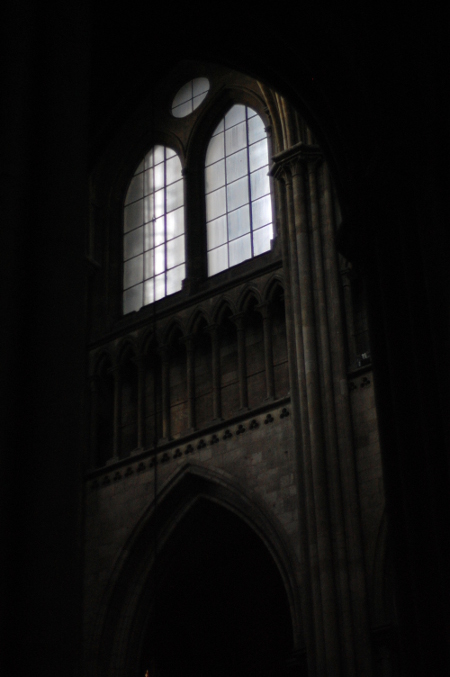 Skipping ahead another few centuries, seventy years ago this May, Rouen Cathedral lost many of her colorful windows, all of her chapels on the south side, and bells in the Saint-Romain tower, which went up in flames. The year was 1944, and Rouen was being bombarded during la Semaine Rouge, "Red Week", by British and American Allied forces. In Rouen alone, 400 people were killed, many of them drowned after having taken refuge in cathedral cellars, unable to escape them after the bombardment.
Allied forces bombed nearly 1600 cities and towns in occupied France. In Rouen, the purpose was to destroy bridges and railways, although the cathedral is near neither and was surrounded by homes, which were razed. Understandably, the subject is complex and does not lend itself to facile conclusions. Unfortunately, there is almost nothing available to read on either Rouen or the more widespread bombardments in English. Indeed, as you can see in the Wikipedia article linked for la Semaine Rouge, there is not a single translation into any other language. For a nuanced analysis of it, I highly recommend this 2012 PDF from the Canadian Centre for Military and Strategic Analysis: ROUEN: La Semaine Rouge, by Stephen Bourque.
While many are familiar with the Normandy Invasion, few American, Canadian or British citizens know about the massive air campaign waged against their occupied ally. This offensive lasted four long years and targeted most of France's population centers and infrastructure. By the time the war was over, the Allied air forces killed as many French as the Germans killed British civilians during the "blitz" and vengeance weapon assaults […] The greater French narrative is extremely complex and begins with Germany's invasion in 1940 and the resulting occupation.
Rouen Cathedral continues to be restored today, its façade getting more work done, as well repairs to still-damaged structural elements. Another church targeted during la Semaine Rouge was also recently restored: l'église Saint-Maclou. Here you see its freshly-cleaned Gothic Flamboyant entrance framed by wood homes typical of Normandy.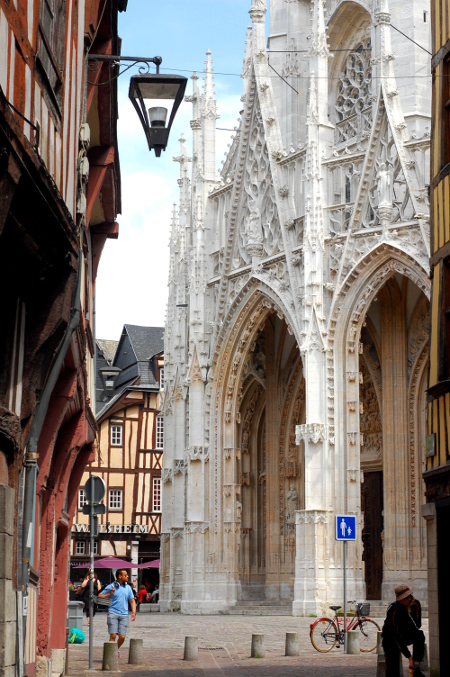 In the next post of this series on Rouen, we'll look at the Saint-Ouen Abbey, festooned with gargoyles, light filtering through a veritable tapestry of stained glass windows, and containing one of the largest Gothic organs in France.