Author: fraise
Wednesday 18 February 2015, in Catnet, Cats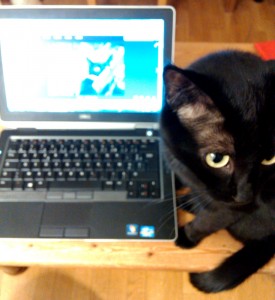 The end of 2014 marked my twentieth year blogging – as a human. Regular readers may also remember the Internet's very first catblog: Malo's, started back in 2002, with then-novel cat-captioned webcam pics. It is still around, just on a private server, because it got so many spam comments, and up until recently, blog spam filters were very hit and miss. Recently, another cat, Susu, has been telling me that she'd very much like to contribute. As if to give me a sign, today I learned that one of the early names of the Internet was "catenet", pronounced "catnet" as a contraction of "concatenated network". I had been looking for a category name to dub Susu's contributions – now we have one!
Susu is a thoughtful, humorous, and expressive feline. As we all know, the Internet has contributed to the expansive growth of felis catus understanding, especially with the leaps and bounds made in cat-to-human translation. As such, I feel confident that Susu will be able to contribute a great deal here on her Catnet. For those of you wondering why Kanoko isn't writing, he's never much liked the spotlight. He does love watching Susu and helping her, though.
A brief look at Susu, full name Susuwatari Soot Sprite, and what she'll be bringing us:
Birthdate: July 2011 (age 3 currently, nearing 4)
Notable personality trait as a kitten, according to her first human: "She's a wild one!!! She never stops running around, I still haven't been able to pick her up!"
Move-in date with Kanoko and fraise: 29 October 2011
Fun fact: It was the first time her original human had been able to pick her up.
First expression of interest in blogging: age 4 months
Tastes in wine: Susu prefers Fleurie
Design skills: A talented couturière, Susu often advises on pattern and fabric combinations.
Regarding the recent dinosaur controversy: Susu would like to state for the record that she is not, has never been, and will never be, a dinosaur. She was merely photographed at a sensitive time by a paparazzi at her vacation home on the French Riviera. While she is an obligate carnivore, she does not roar or go on rampages, and always sheaths her claws when swatting. She meows and dashes about while behaving responsibly: these are highly important distinctions that dinosaurs are incapable of making.