Thursday 21 November 2013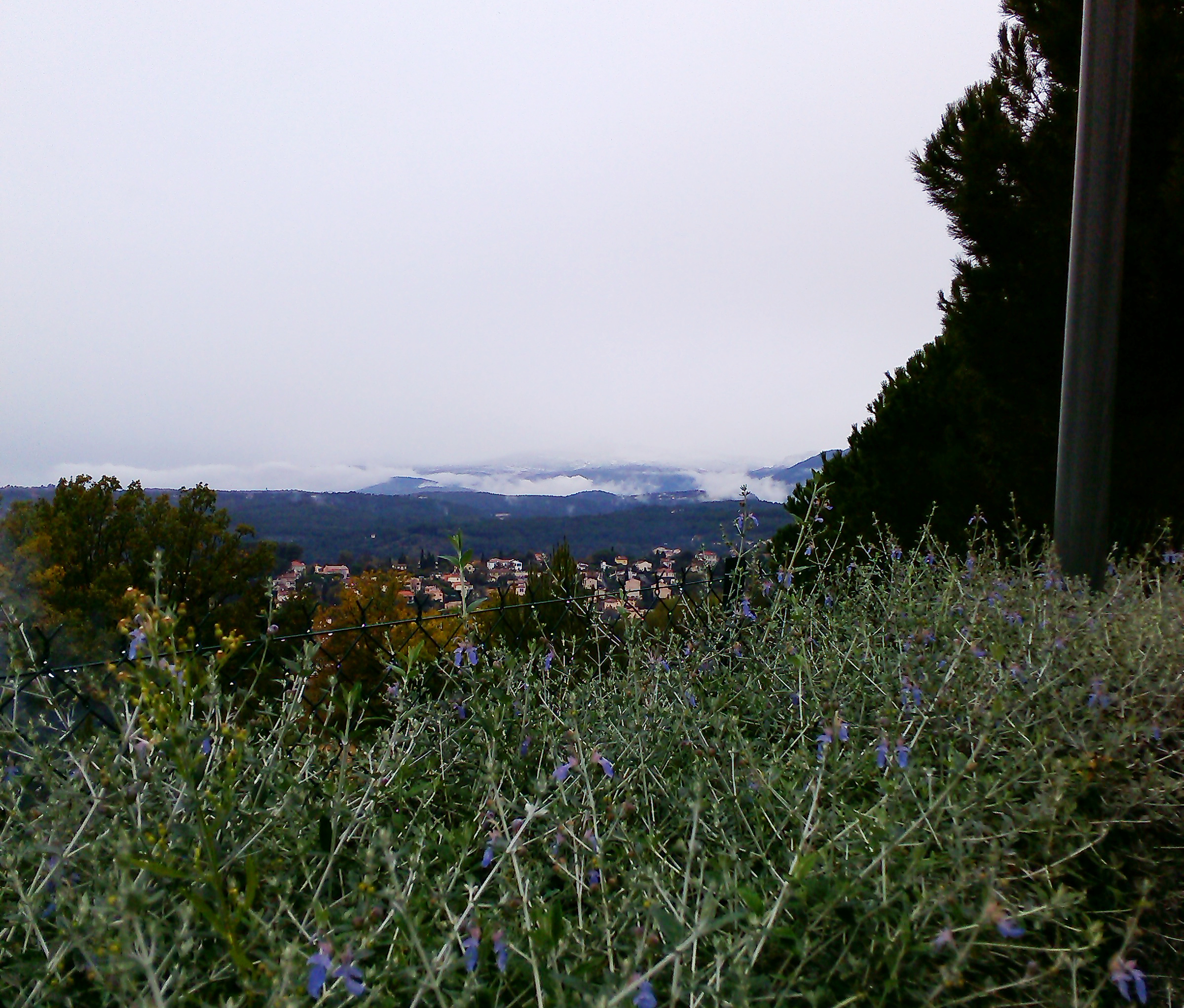 Snow on the Riviera foothills – Préalpes looking west
I always check the weather forecast before committing to a ride. With all of our hills, mountains, rivers, valleys, and the Mediterranean, there are several microclimates in the area. It's common for Nice to get downpours while places a few miles away stay entirely dry, and vice versa. The most reliable forecasts tend to be those from Météo France, but again, given Nice's microclimate, there's nothing barring the warmer Mediterranean from deciding to throw an impromptu party with cold snaps rolling down from the mountains. The best indicator – a tip shared by a dive instructor many years ago – is to look at what the winds are doing. If they start to get above 25kmh, something is afoot. I can't overstate the importance of winds here. Again, the mountains and valleys come into play: while you'll be relatively protected inside cities, once you're crossing any sort of valley – for instance, the Var between Nice and Saint Laurent du Var – you will be getting strong crosswinds, often as unpredictable gusts. These are winds that blow cars a few feet sideways on the autoroute; they can do worse for lighter cyclists.
Yesterday evening, I checked my weather app and saw 5°C forecast for the morning, chance of light showers, and then the sun coming out for a 14°C afternoon. Winds at a kind-of-iffy 20kmh, but no gusts. Since Saturday we had been having thunderstorms and constant rain showers with moderate winds (30kmh), which had finally let up on Wednesday. As such long-term rains are out of the norm here, I felt reassured by Wednesday's calm, the forecast, and 13 years of living here that all spoke towards a sense that "Thursday should be fine."
I started out at sunrise. It was cold, but not freezing. As I rode to the Prom, a few drops began to fall. "Ah! Light rains, just as they said!" I thought. Once on the Prom, I enjoyed the fresh sea air, and flew along with a huge flock of swallows dancing a few dozen metres above. It was a lovely sensation watching their farandole du ciel as I rode along, nearly as free as they.
Then the sky got darker, rather than lighter. As I neared the bridge over the Var and took a drink from my bottle, I thought, "wow, this tastes like it just came out of the refrigerator! …uh-oh…" I keep my refrigerator quite cold. The rain got heavier, and felt icy on my legs – I don't have knee warmers. I thought it was due to being out of the habit of riding in the cold. But when I reached Cagnes, the water in my bottle was even icier.
There's a 75-metre elevation gain over just 450 metres as I near our offices: a 17% climb. For the first time I can remember in 30-odd years of riding bikes, I had difficulty controlling my front wheel. It didn't seem to want to go straight. My handlebars kept trying to squirm out from under my hands. I was grateful to have put on my full-length gloves, which are really grippy. It was only after I had reached the warmth of our offices that I learned what I'd just ridden through: a freak sleet storm that had sent cars spinning on our hills. Only another hundred metres above our hill's elevation, snow had fallen, and stayed put all day.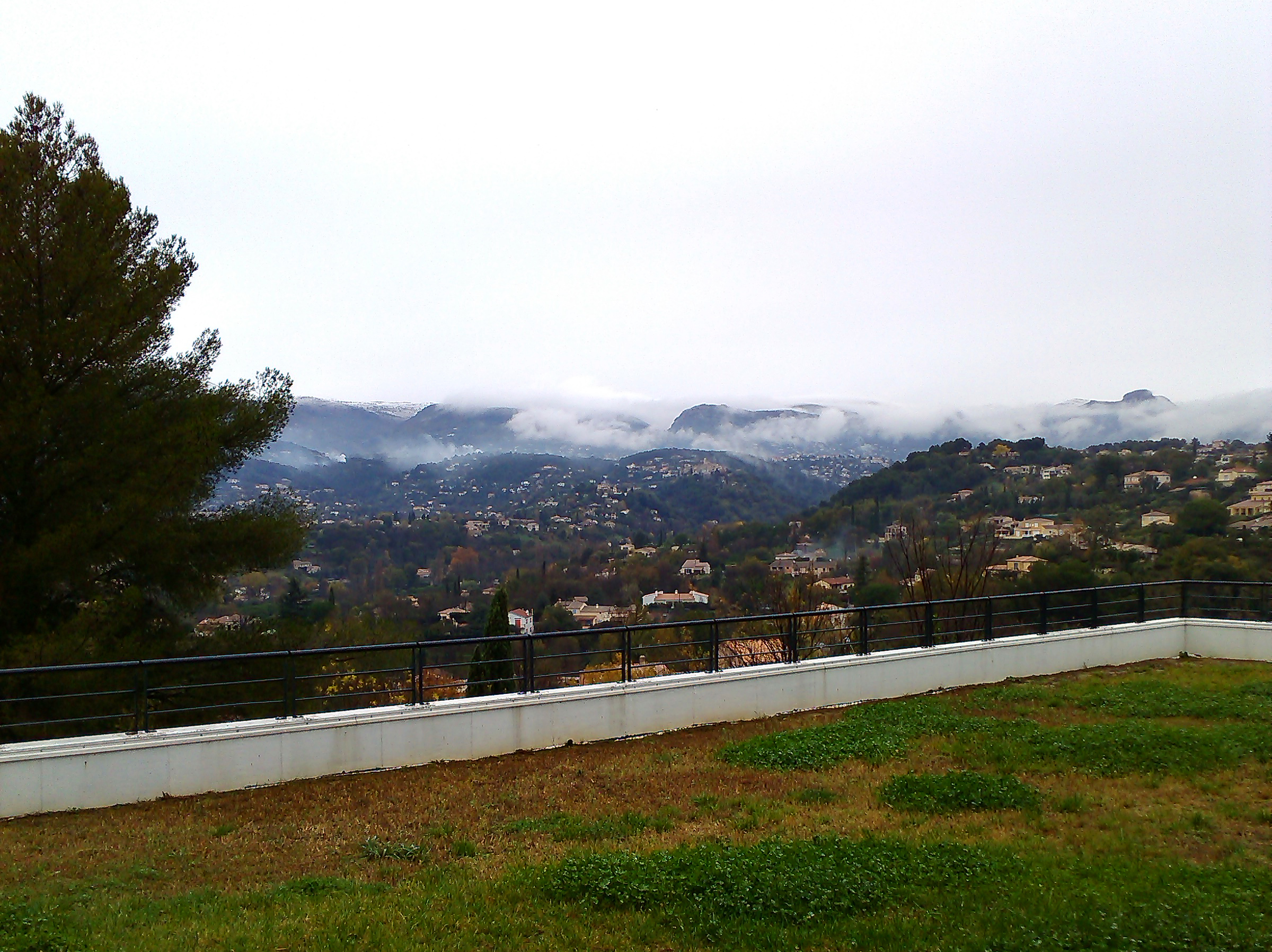 Snow on the Riviera foothills – Préalpes looking north
So it was that my 300th road kilometre was baptised by ice. It's not an experience I want to repeat! While it's disappointing, I do think it would be safest if I hold back from commuting, which has to happen during the weather-sensitive sunrises and sunsets here until February has passed, and keep road riding for weekends. Going out after the sun has been shining for an hour or two is much more reliable here.