Sunday 30 March 2014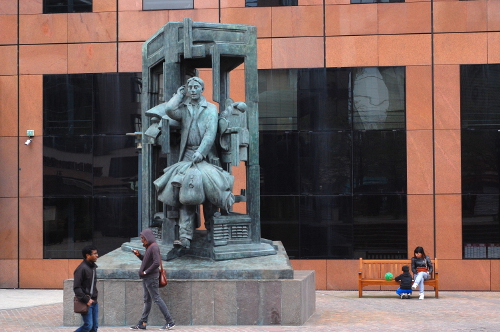 Today I took a long walk around the northern half of La Défense, starting from the top (northwest), in Courbevoie, which has RER rail tracks leading to the business quarter. From there I walked to the opposite side, in Nanterre, the southwestern end of La Défense. It's the first time I've been outside of skyscraper-land; unfortunately, I can't really say I was impressed by the large Parc André Malraux, meant to be the area's greenery. Most of the visual interest in this part of the Parisian suburbs comes from architecture rather than nature.
Thus it was that I returned to the parvis de la Défense on my boucle, or "round". Yet another temporary art exhibition is being set up, which looks like it will be glass mosaic fishes in front of La Grande Arche.
Now with enough photos to merit it, I've created a set for La Défense. It has a mix of pictures taken with my phone, which has quite a decent wide-angle lens, and my Nikon SLR. You may notice several shots of the GDF Suez building (shown below) – that would be because not only do I find it a beautiful skyscraper, it's also the client I'm currently working for. During my first few days in Paris, the sun came out and turned all the glass and metal into beautiful plays of light. Indeed, while I generally prefer natural vistas, I've found La Défense, with its fields of rock and concrete, trees of glittering steel, and flowers of iron, to be a postmodern forest in its own right.