Saturday 18 January 2014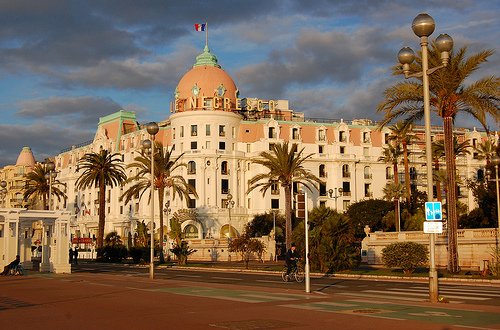 In November, while cycling home from my job in Cagnes-sur-Mer, I saw something no one wants to witness. On the Promenade in Nice, a few hundred metres before reaching Le Negresco, a SAMU (EMT) van was stopped next to the bike lanes, and two cyclists were on the ground, their bikes – one from our Vélo Bleu bike share – in a twisted heap. Neither cyclist had a helmet, and neither was moving or making a sound. I couldn't look longer than that. I slowed down and signalled to cyclists behind me to do the same; only half a lane was free for passing the crash site.
Growing up in the Oregon countryside, our elementary schools in the 1980s had day-long courses where police and firefighters came to the school to teach us road, fire, and health safety. It made a lasting impression on me. I already knew how to ride a bike, but as a child, even when your parents explain rules to you, you don't quite grasp that there are other people involved in your safety. This is normal: a child develops most healthily when their family provides a safe space, one the child does not see as "external". When the firefighters and police came, they were other people – not family. I remember being struck by how important it was to have these other people to take care of you if you were in an accident, and how useful sensible road rules and regulations were. This is where my philosophy of "ride predictably" came from. It's not just for your safety, it's also for others. The road is a shared space, and behaving predictably means that everyone has a chance to use it in as egalitarian a manner as possible.
It doesn't take long in Nice to notice that there are quite a few people who couldn't care less about driving predictably. Red light? Accelerate. Pedestrian crossing at a light? Swerve around them. Yes, I have been swerved around and cursed at while crossing the street on a green pedestrian light – the cars had red lights. Motorized scooters drive on the sidewalk at full speed and will also curse at you if you tell them to use the empty road. In this sort of environment, it wasn't too surprising to discover that a minority of cyclists behaved the same way. Except it was having a very bad impression on novice cyclists, namely bike share users. I spoke with so many people who said, for instance, "why should I signal or stop for pedestrians when drivers don't?" Others who shrugged, "I don't see any rules for cyclists, why bother."
I thought about how my Oregon upbringing had made road cycling enjoyable and safe, looked at what was missing in Nice, and wrote city hall with suggestions. As well as praise. Nice truly has come a long way in the last five years, and the roads are noticeably safer. As the bike share program and bike lanes expanded, however, I saw grave danger ahead if self-centered driving and riding behaviors continued unchecked.
Last December I received a response from Christian Estrosi, saying he had taken my email into account and was tasking his road security department to look into the suggestions. Today I received a hand-addressed letter from the city. To my pride and delight, it was from the directeur de la stratégie de la voirie, or road security/strategy director. They've created the Plan Vélo to be fully implemented by 2020, using my suggestions, and more!
– All Vélo Bleu stations will be equipped with signs that detail road regulations and good cycling behaviors (they didn't have these before)
– Vélo Bleu brochures will also include the same
– La Fête du Vélo and La Semaine européenne de la mobilité will now include informational campaigns on cycling road safety. I had actually overlooked the bike festival in my letter, so was very happy to see that they thought to include it.
– Primary schools will now have educational programs for cycling, in which kids will be able to ride bikes with police officers along protected routes that have road signs and such, so they can learn in a realistic situation. Excellent!
They also assured me of their plans to continue extending bike lanes in the city, which is great news. Bikes make a positive difference in many areas – health, safety, environment, roads… I'm very happy to have been able to contribute to the development of cycling in Nice, and look forward to seeing the plan implemented.