Thursday 2 January 2014
This year will be my sixth in my apartment. It's been slow going to fix it up, but every time I tackle a new project and photograph it, I'm reminded by my home improvement photoset that it has come a very long way. The bedroom, living room and entry are only recognizable by their shapes now. It's also nice encouragement: whenever I feel like it's just never going to be done, I can see proof that, with time and dedication, a place can change a great deal.
This was the dining and kitchen area (behind the corner on the left) from the 2006 real estate ad. (I purchased the apartment in 2007, after it had been on the market for a year.) If you look closely, you can also see a former feline resident: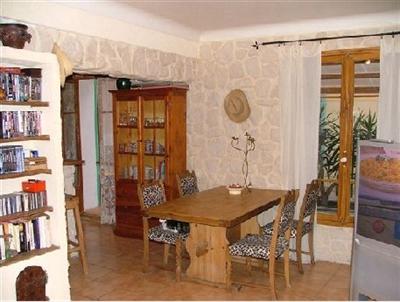 I removed the yellow-brown tile in the living room, and restored the original tomettes, as well as having to remove an extra layer of linoleum in the entryway, where the original floor is marble aggregate. I stopped at the kitchen after two years of work on floors in the other rooms. After the kitchen water damage this autumn, and with holidays now, I finally started on it today.
I had removed a line of tile adhesive and uncovered what I thought were more tomettes, due to dark red I could see through it. As chance would have it, what I had actually uncovered was the dark red underside of a piece of laminate flooring. Yes, the previous owners laid tile over cheap laminate, without glue. It was held in place by filler between the pieces of laminate. Due being stuck between tile and a ground floor, the laminate had also rotted over time. It stank when I reached it.
The upside is that it made removing the tile much easier. I'm about a quarter of the way finished with my kitchen floor already, and discovered the original: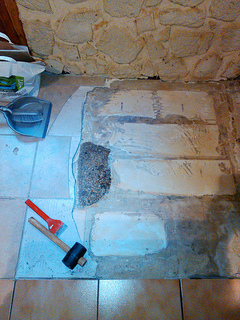 In the photo on the left, with Sir Furry-Britches, you can see the lone piece of laminate flooring turned upside down that fooled me into thinking I would find tomettes. In the photo on the right, I had removed more tile, taken out the rotten laminate, and uncovered a bit of the linoleum beneath the tile and laminate layers. The dark spot shows the original floor: marble aggregate, like the entryway! It's relatively easy to restore, and should be a great kitchen floor. I just hope it's undamaged.